SAFARI SOFTSHELL, INC.
Presents the XO-Shell & the All New Omni-Shell


---
For easy Camping, Travel, Outdoor Sports, and Emergency Shelter, this tent or sleeper quickly turns your cargo and tailgate area into luxurious sleeping quarters. This auto accessory is custom designed and manufactured to fit your SUV, Truck, Car, Van, or Wagon. Easy access and, BUG FREE, ventilation makes it a breeze to use. And when your trip is over, the sleeper can be quickly and completely detached and stored in a small stuff sack.
---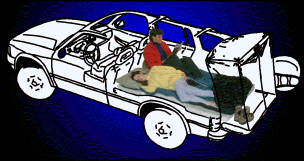 XO-Shell, the FIRST and ONLY Custom SUV Sleeper.

Omni-Shell, the ONE and ONLY Shrink-to-Fit Universal Sleeper.
---
OUR PRODUCTS:
---
SAFARI SOFTSHELL INC.
1-800-997-4747